Face to face courses run over 5 weeks with a new body part introduced each week working up to a full body massage. We will re-cap the massage strokes covered in the previous week and take a nice, relaxed approach to learning the massage routine bearing in mind that some babies might be asleep at times! There are weighted baby massage dolls available to practise with should there be any sleepy babies!
We will discuss the best conditions to massage baby and and there will be time at the end for a chat to get to know each other.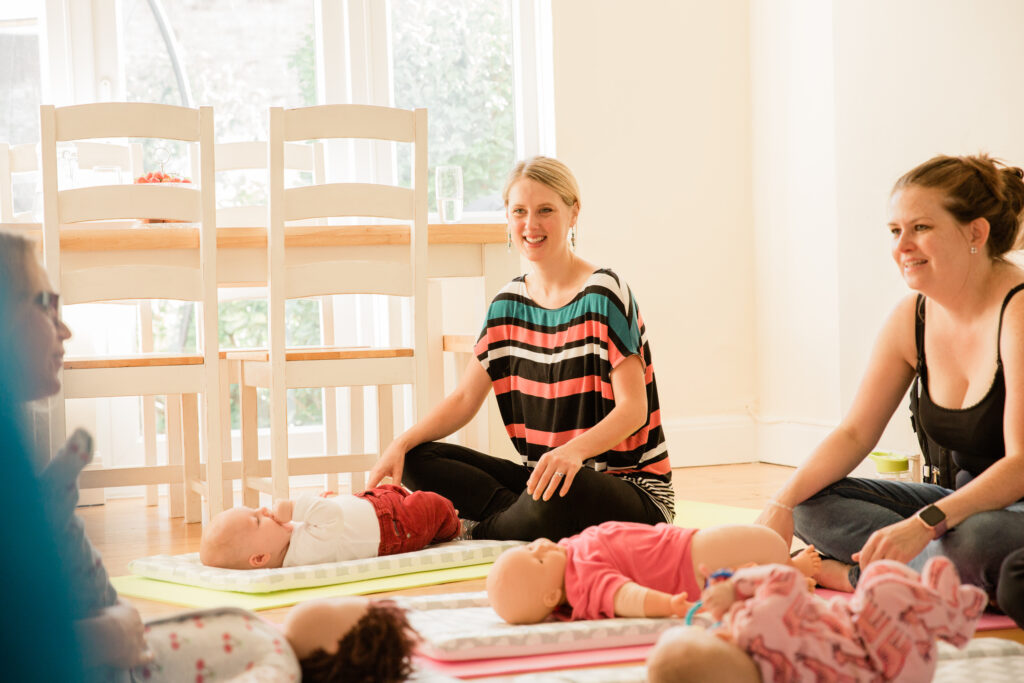 What are the benefits of Baby Massage?
For Your Baby
Helping your baby to feel securely attached
Helping your baby to feel more loved, valued and respected
Reduced crying and emotional distress
Increased levels of relaxation and longer sleep
Development of body awareness and coordination
Relief from wind, colic, constipation and teething discomfort
Improved/deeper sleep patterns
For You
Feeling closer to your baby
Gaining a deeper understanding of your baby's behaviour, crying and body language
Providing an enjoyable opportunity to spend one-to-one time with your baby
Feeling the relaxing effects of giving your baby a massage (Skin to Skin and Oxytocin!)
Increased confidence in your ability to care for and nurture your baby
Learning a life-long parenting skill
Better recovery from postpartum depression
Opportunity to socialise with other parents, there is an optional WhatsApp group for the duration of the course
How Much is the Course?
£75 by bank transfer or card payment for group courses at Whitton Youth Zone, one to one and private courses vary by location.
What Should I Bring? A soft towel, a comforter etc. if your baby is attached to a particular favourite and to make her/him comfortable.
What if I Miss a Class? Strokes are reviewed each week and if you miss a class due to illness, holiday etc. I will catch you up and if needed spend one on one time during class going through missed strokes to make sure you feel comfortable.
What if my Baby is Asleep? Baby massage classes are baby led so if your baby is sleeping they sleep! There are practise dolls available to learn the massage strokes. It's welcomed that if baby needs feeding, changing or a cuddle that's what will happen to meet baby's needs.
Where is the Class Held? Classes are held at Whitton Youth Zone just off Whitton High Street. If you are interested in organising a course as a group of friends, antenatal/NCT group etc. please get in touch at bumpandbabymassage@hotmail.com to discuss your needs.
What Age Does My Baby Need to Be? Courses are suitable from birth until crawling/mobile and to a maximum of one year old. Every baby is different though so please talk to me if you have any concerns.
Can More than One Parent Attend? Baby massage is for all parents whether that be fathers or mothers, class sizes are planned assuming one parent/adult will be attending so please get in touch to discuss if more than one parent/adult would like to attend.
What About Online Courses? I can teach online but don't have any courses planned, please get in touch if interested!
Any Other Questions? Please drop me a line. 🙂